Call Today: 860.657.1064
News
Save on Radiesse
$75 off each syringe*
RADIESSE® is an injectible filler that provides an instant
lift by restoring lost volume in the face.
It is also used to restore volume in the hands.
It continues to work with your body, stimulating the natural production of collagen for a more refreshed appearance
that can last up to a year in many patients.
Call 860.657.1064 or
*Regular price is $700 per syringe, sale price is $625 for treatments performed in February 2019. A consultation is necessary for first time injectible treatments.
Crepey skin above the knees?
Body by Thermage is the solution!
Summer bodies are made in the Winter!
Save $300 on a Thermage Body Treatment!*
Many are familiar with what Thermage can do to lift and tighten our faces,
but the same technology works beautifully for the body as well!
Call
860.657.1064
or
Email us
to schedule your complimentary consultation to learn more
about this non-invasive, one session treatment.
*Schedule your treatment in February for $2150 + tax,
regular price is $2450 + tax.
Xeomin Event!
Make your appointment now for February 6!
Please join us for refreshments, raffles and
up to $100 OFF your treatment!
Voting Continues through
February 28th
Annual Best of
Hartford Magazine Poll
Many thanks to all of our dear clients who have voted us "Best Medspa" 6 years in a row. We want you to know how much we value your patronage. We appreciate you for taking the time out of your busy lives and we hope to have your vote again this year.
Place your vote in the "MedSpa" category in the
Health, Wellness & Beauty Section.
Thank you in advance for your support!
Review of the Month
Here is what a recent client had to say about Medspa1064
"Medspa1064 is where I go to feel beautiful! Amazing staff and the attention to their clients is of the highest quality. Dr. J and the rest of the Medspa team are the best!!" BK
Shop for Products Online!
Visit the
Shopping
section of our website!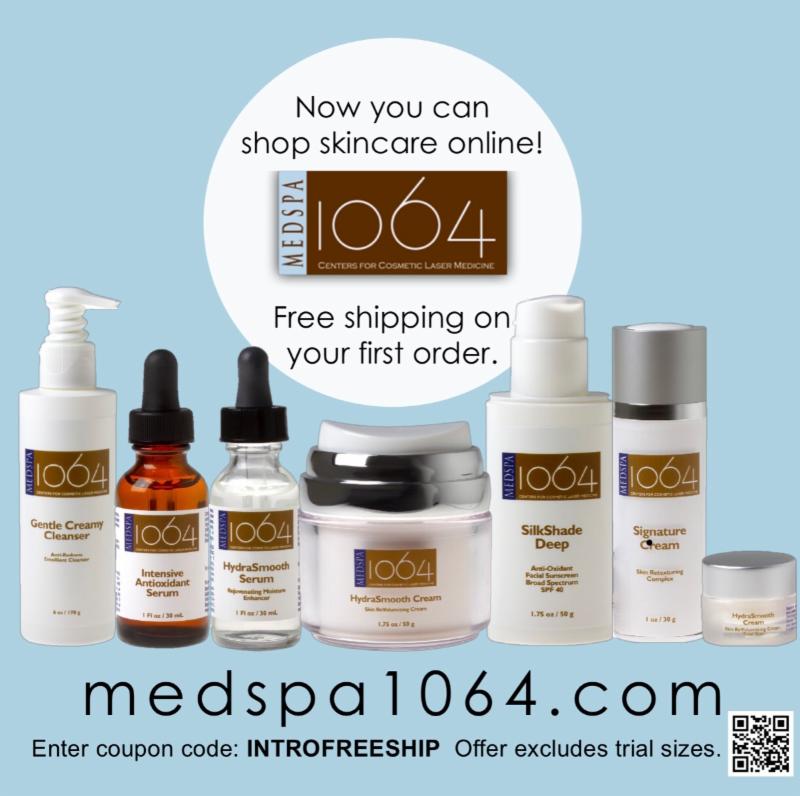 Our brand new webstore creates the perfect environment
to shop for the best in medical skincare products.
Exciting new features provide detailed information, reviews,
and a subscribe and save option.
Use coupon code INTROFREESHIP for free shipping
on your first order!
~Ask the Aesthie~
Our Clinical Aestheticians answer
your skincare questions.
Do I still need to wear sunscreen now that summer is over?
The simple answer is Yes!
With the temperatures beginning to dip and the sun setting earlier each day, your first impulse may be to pack away your sunscreen products. But as any doctor will tell you, protecting your skin against UV damage is a year-round commitment. Incidental sun exposure-such as the kind experienced on a daily commute-has a cumulative effect that results in fine lines and sagging skin. And research suggests that a protective layer of
SPF
may be just as important for those who are holed up in an office as it is for those who spend their days hitting the slopes or taking snowy walks during winter weekends.
According to New York City dermatologist Dendy Engelman, recent data indicates that pigment cells can be stimulated not only by the sun's bright UV rays, but even by lower doses of ambient and infrared light, emitted by your computer screen or overhead lamps. "People used to think, 'What's the point of wearing sunblock in winter?' especially in Manhattan, where you never see the sun," Engelman explains. "But now we know that even your office lighting, your phone screen can be harmful."*
Here are some tips on how to make the most of sun protection in the colder months. If you've already got a favorite thick moisturizer for day, layering over it with a simple powder block will work wonders: Jane Iredale Mineral Powders contain physical SPF that offer great sun and environmental protection, as well as acting like a foundation to cover imperfections and give skin a gorgeous glow.
For purists who prefer a dedicated cream to counteract the season's dry indoor heat and humidity, a richer, more hydrating sunscreen with an SPF of 30 or higher, like
our
Medspa1064 SilkShade Emollient, helps to counteract the harsh air. This product is packed with antioxidants that go one step further, protecting your skin from environmental pollutants and enhancing its radiance.
For simple, yet effective, protection, one of our favorite SPF products is Neova DNA Damage Control Everyday SPF 44. It shields your skin from the daily harmful UVA and UVB sun rays that can cause a sunburn and premature signs of aging. Sodium hyaluronate replenishes moisture and binds water to the skin for softer, smoother skin. Photolysomes, derived from plankton, help improve sun-damage while vitamins E and C fight free-radical damage.
Feel free to come into the office to find a SPF for your skin type,
we are sure to have your perfect winter product!